> Peter Kossek's music home page <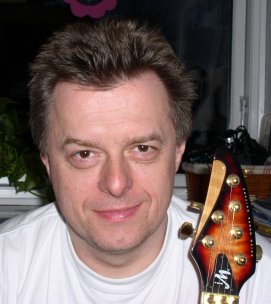 Welcome, as you can see I rather spend time making music than making this site fancy.
By now, people from all continents have visited this page. This is way beyond what I imagined at the time I decided to make this site.
Please send a comment or simply say Hi by clicking here.
First of all - Enjoy the music!

Breaking news!
The collaboration with Mary Paulson has now come into a new phase! A brand new CD with songs written by Mary and myself has just been released. Check out Ballads and Blues on CDBaby

My own stuff
Use the player below to listen to the tracks on SoundClick.com

About the tracks:
Other Side of Town: Now it's time for some classic rock. Play it loud - and often! This song needs a real singer. If you are a singer, let me know and we could work something out.
Those Cats: Easy listening instrumental. To all the cats that inspired me to do this piece.
PRSto: Just got a new guitar - a beautiful Paul Reed Smith Custom 24. This is the first piece where I use this guitar.
Againts the Wind: Turn up the volume and let it take you to places of your imagination.
Monte Carlos: Now, a humble tribute to Carlos Santana. This tune is all about the passion for music that Santana has carried all the time. I have added to the original version of the tune. Enjoy!
No Ordinary Man: The blues about being a little of everything.
Another You: I wrote this song for my wife - a power ballad where Søren Hejgaard did the powerful vocals.
Mixed Fellings: If you like improvisations and guitars, check this one out.
Instrumental:This time we are talking analog synths meeting sequencers and guitars.
Days of Your Life: I wrote Days of Your Life (sample) for my son. It's about what to expect at the age of 14 and beyond. Mary Paulson did the great vocals on this track. This tune is available on Mary Paulsons CD "Ballads & Blues"
Give Me a Reason: Give Me a Reason (sample) tells you something about being with other people. Again - vocals courtesy of Mary Paulson, USA. This tune is available on Mary Paulsons CD "Ballads & Blues"
Miles Away: Listen to the track and tell me what you think. This is a journey through various genres.
SloBlues: This is a very emotional piece. Crank up the volume and close your eyes.
TooBlues will take you to some swinging blues. Thanks to Bjarne Jørgensen for the bass work.
Sun will shine Tomorrow: Don't miss out on this one. The incredible vocals are delivered by Rikke West Jørgensen
Notes in Space: Synth power-pop.
When it's over: takes you to some 80's instrumental stuff.

International collaboration
Smokin' new! Don't miss Believe in Me (sample) written by Mary Paulson. Mary is singing and playing acoustic guitar, her neighbour plays the banjo and a guy Mary met at the local music store plays the violin. I play the rest.
Give away (sample) - Tom Cleveland from Minnesota, US wrote this song and asked Mary from San Diego, US to do the vocals. I laid down all remaining tracks and did the mixing of this heartfelt piece. Thanks to Tom for the material. It was a challenging process and truly a learning experience.
Speak of Heroes (sample) is a beatiful ballad composed and sung by Mary Paulson, USA. I had the pleasure of playing all instruments, engineering and partially arranging and producing this piece. Enjoy!
And now to something completely different: an online collaboration between USA, Canada and Denmark. Dark Epic is the fruit of the work of Brète (composer, keyboards and arrangement, US), vryc (Drums, mixing and mastering, Canada) and yours truly on lead guitar. We never met, just exchanged information over the Internet - amazing. Thanks, guys.
New collaboration with Brète - do check out Wasp Flight for melodies at the speed of light!

Remix
I am participating in a remix contest. It's about remixing a song by the Danish band TV-2. I have made an AxeMix, PianoMix and OrchestraMix. These links point to a Danish Web page - in case you're not Danish, once you are on the site, just click the loudspeaker icon to listen to the song. Enjoy!

About the recordings
Unless stated otherwise, all instruments were played or programmed by yours truly.
Every guitar track is real guitar, primarily my Brian Moore i1f or the PRS Custom 24 plugged into a tube preamp and then connected directly to my sound card. The sound is processed on the computer using various software plug-ins.
All other instruments are virtual instruments controlled using a USB keyboard.

I recorded and mastered everything at my house.

Feedback!
If you like it - tell me and tell your friends. If you don't, tell me.

Last but certainly not least, I would like to thank my friends for listening patiently and giving input to my work.

Please note that this music is protected by international copyright laws.